Create WooCommerce Account Via Online SIM Card
There are tons of various ways to create a positive experience for clients that small business owners and e-commerce website owners may use. One such option is setting up a WooCommerce login plugin so that users can create accounts and use them whenever they need to make purchases. Keep reading to learn more about the WooCommerce login plugin.
WooCommerce Account And Why It's Needed
WooCommerce login is a popular WordPress plugin. Customers may register login accounts on your e-commerce website to manage their personal information, examine their order history, and access additional services such as stored payment methods and wishlists. Simply put, you may create a WordPress website for e-commerce purposes and set up a WooCommerce login plugin so users can create accounts and come back to your website.
A WooCommerce login account benefits the client and the website owner. The WooCommrece login delivers a tailored buying experience for the user and makes future purchases from the website easier because their information is already recorded through registration. Thus, they don't have to fill it out over and over every time they want to purchase something. Users can also be notified of impending discounts or promotions if they undergo registration via WooCommerce login accounts.
Having client login accounts on WooCommerce may assist the website owner in enhancing consumer loyalty and repeat transactions. After all, it's much easier to use the login and password on the website after undergoing registration than to use a new website and add the data from scratch. It also gives useful information on client behavior and preferences through the registration process. This data can be utilized to improve the performance and marketing tactics of the site's owner or marketing team.
Overall, the WooCommerce login account is a great feature for e-commerce businesses that want to deliver a more customized buying experience and build trust and long-term connections with their consumers.
Why Do You Need A WooCommerce Account Plugin?
The WooCommerce login account plugin provides benefits to website owners since their clients create accounts, and there is a better chance that they will keep using the website. Typically, clients prefer returning to the site they bought something good. However, they don't like wasting their time, so they won't use sites where they can't create accounts.
Thus, it's good for website owners to provide clients with the ability to create accounts. Here are a few benefits of this WooCommerce login plugin:
Quick and easy checkout. Customers may keep their billing and shipping information within a WooCommerce login account, making the checkout process faster and easier.
Saved payment methods. Customers may save their payment information for future transactions, making it faster and safer to check out.
Personalized recommendations. WooCommerce login plugin may recommend relevant goods to a consumer based on their purchase history and wishlist.
Wishlists. Clients can make wishlists of things they want but aren't ready to buy. By allowing buyers to store things for later, this feature can assist in improving sales.
Loyalty rewards. Customers who register an account via the WooCommrece login plugin and make recurring purchases might be offered loyalty awards or discounts by website owners. This can assist in boosting client loyalty and stimulate additional purchases.
News subscriptions to promote new products. Customers who create an account via the WooCommerce login plugin can sign up to receive newsletters and promotional emails from the website's owner, which can assist in promoting sales and consumer engagement.
Order history. Customers may access their order history via the WooCommerce login plugin, including tracking information, in one convenient location. This feature allows users to keep track of their purchases and makes reordering easier.
Thus, adding a WooCommerce login plugin can provide customers with a more customized and simple buying experience while also assisting website owners in increasing loyalty and sales.
Verify A WooCommerce Profile Via Personal Number
A WooCommerce login plugin requires registration. You must first add a WooCommerce login plugin by creating a WooCommerce account. The registration procedure is standard, and you must add personal and business data. It includes adding an email address and a phone number to receive a shortcode to finish registration.
That's where many people have problems regarding registration. They have to add a personal number to receive a code while not losing their privacy and anonymity. Luckily, OnlineSim has a solution to offer.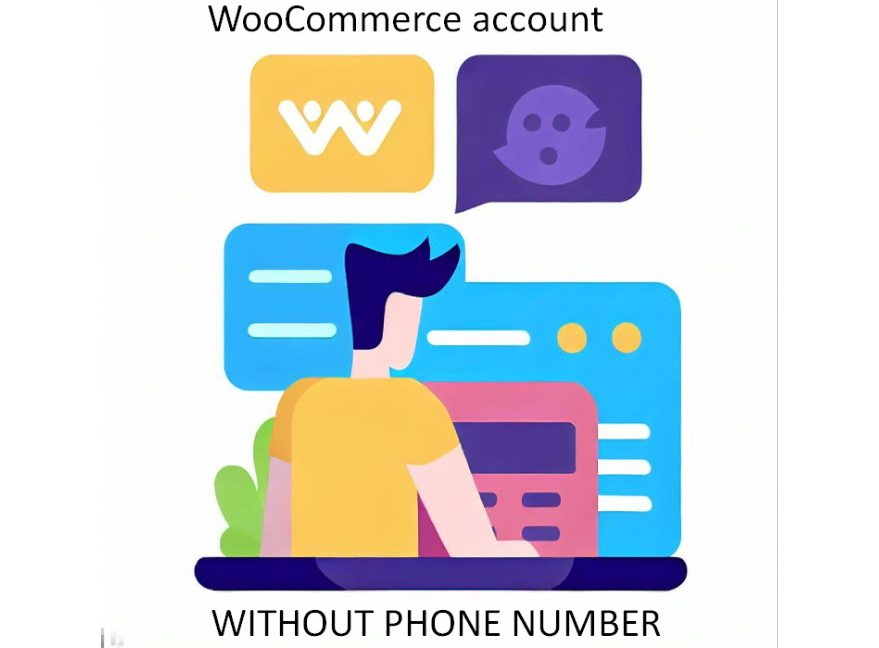 Virtual Number OnlineSim. Instructions For Buying And Using
To receive a code, you need one thing: an online SIM card. OnlineSim offers quick registration via social network accounts. Then you can receive a shortcode on a newly rented online SIM card.
The service provides customers with two options: they may receive a code within twenty minutes or rent the number for a day. Once the user chooses the country and number, they may use a newly-rented SIM to create a WooCommerce login account.