How to bypass Samsung verification with a virtual number?
Samsung's official website serves as the online hub for all of Samsung's products, services, and support. Samsung also offers a variety of mobile apps for different purposes, which can be downloaded and installed on Samsung smartphones and tablets via the Google Play Store or Samsung Galaxy Store.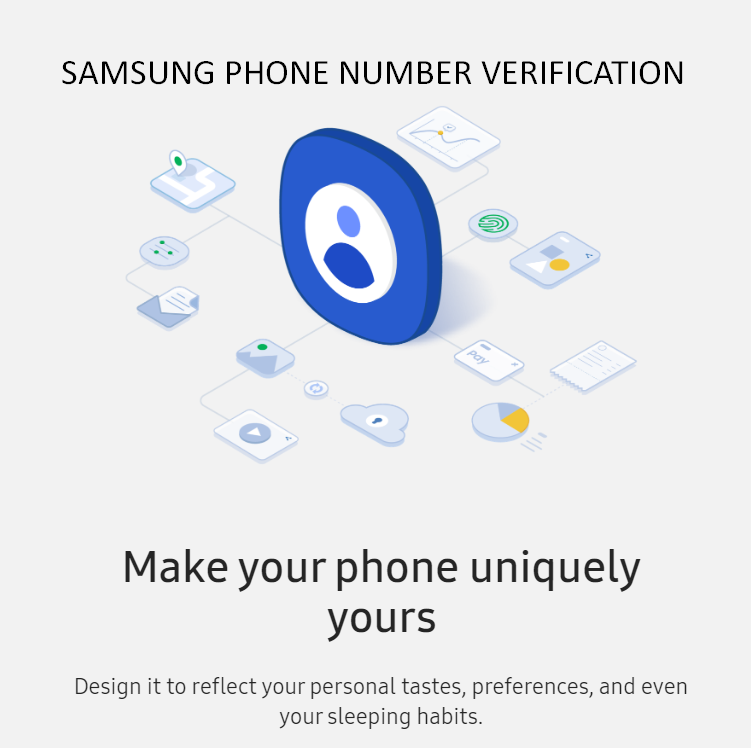 Let's look at how the Samsung app works and why it's better to use a virtual phone number than a standard phone number to sign up for the service.
About Samsung benefits
The Samsung website offers a wide range of information and features, including:
Product Information. You can browse and learn about Samsung's extensive range of products, including smartphones, tablets, TVs, home appliances, wearables, and more. You can also compare different products, view specifications, and check pricing and availability.
Support and Downloads. Samsung's website provides customer support resources, including product manuals, troubleshooting guides, software updates, and warranty information. You can also contact Samsung's customer support team for assistance.
Online Shopping. Samsung's website offers online shopping for Samsung products, where you can make purchases directly from Samsung's official online store. You can also find information about promotions, discounts, and special offers.
Samsung Account. Samsung's website allows you to create and manage a Samsung account verification bypass, which provides access to various services and features, such as device backups, cloud storage, and personalized content. For this procedure, you can use a virtual number from OnlineSim.
Also, here are some of the popular apps features that you can find on Samsung site:
Samsung Members. This app provides access to Samsung's customer support services, including live chat support, community forums, and device diagnostics. You can also get exclusive offers, participate in contests, and receive personalized content.
Samsung SmartThings. This app allows you to control and manage Samsung's smart home devices, such as smart TVs, refrigerators, washing machines, and smart lights. You can set up automation, monitor device status, and control them remotely.
Samsung Health. This app helps you track and manage your health and fitness activities, including step count, exercise tracking, sleep monitoring, and nutrition tracking. It also offers various wellness programs and challenges.
Samsung Pay. This app enables you to make mobile payments using your Samsung smartphone at supported merchants. You can add credit cards, gift cards, and loyalty cards to the app for convenient and secure payments.
Samsung Internet. This is Samsung's official web browser app, optimized for Samsung devices. It offers a fast and secure browsing experience, with features such as ad blocking, video assistant, and privacy mode.
Samsung sign up process
Here's a general outline of the steps for sign up Samsung on website and app:
Visit the Samsung website or download the Samsung app.
Click on "Sign In" or "My Samsung".
Create a Samsung Account. If you don't have a Samsung Account, you will need to create one. Click on the "Create Account" or "Sign Up" button, and provide the required information, such as your email address, phone number, password, and personal details.
Verify your email. After providing your email address during the sign-up process, Samsung may send you a verification email. Check your inbox and click on the verification link to confirm your email address.
Complete your profile. Once you have successfully Samsung create account and verified your email, you may be prompted to complete your profile by providing additional information, such as your name, contact details, and preferences.
Agree to terms and conditions. As part of the sign-up process, you may need to review and agree to Samsung's terms and conditions, including privacy policy, user agreement, and other relevant policies.
Confirm your account. Depending on the website and region, you may need to confirm your Samsung Account signup through additional means, such as a verification code sent to your mobile device or a secondary email address.
Sign in to your Samsung Account. Once you have completed the sign-up process and confirmed your account, you can sign in to your Samsung Account using your registered email address and password.
Using a virtual number from OnlineSim
How to bypass Google verification on Samsung? By providing the service with a virtual mobile number that can receive SMS, you can register an account in the Samsung app. The verification code will be sent by SMS to the specified number.
Step-by-step instructions on how to Samsung register device:
Register online or in the OnlineSim app.
Buy a virtual catalog and select the Samsung app.
Download and install Samsung on your Android or iOS device or go to the official website.
Start the registration process in Samsung. Make Samsung create a new account.
When you are asked for your cell phone number, copy the new number from your OnlineSim account and paste it into the appropriate field in the app.
Find the Samsung verification code in your OnlineSim account and copy/paste it into the appropriate Samsung login field.
Complete the activation of the app.
Login into Samsung account. Your Samsung account registration is complete, thanks to your virtual phone number!
OnlineSim is a virtual number provider that has become popular for its reliability, quality, and loyal prices. It owns more than 10,000 online sims. The company boasts more than 30 countries represented in its catalogs. With OnlineSim, you can choose your country and city.
Check messages are delivered to OnlineSim numbers in no time at all. You will not be frustrated while waiting. It is a convenient service, and registration takes only a few simple steps. OnlineSim offers short-term directories and long-term directories. OnlineSim's virtual directories are useful for any registration, including the Samsung app. Rest assured that your privacy and comfort will come first with OnlineSim virtual phone numbers.