How to bypass Xiaomi verification with a virtual number?
Xiaomi is a famous Chinese multinational electronics company that manufactures and sells a wide range of consumer electronics, including smartphones, smart home devices, laptops, smart TVs, wearables, and other related products. Users can access information about Xiaomi products, purchase devices, and receive support on the official Xiaomi website or app.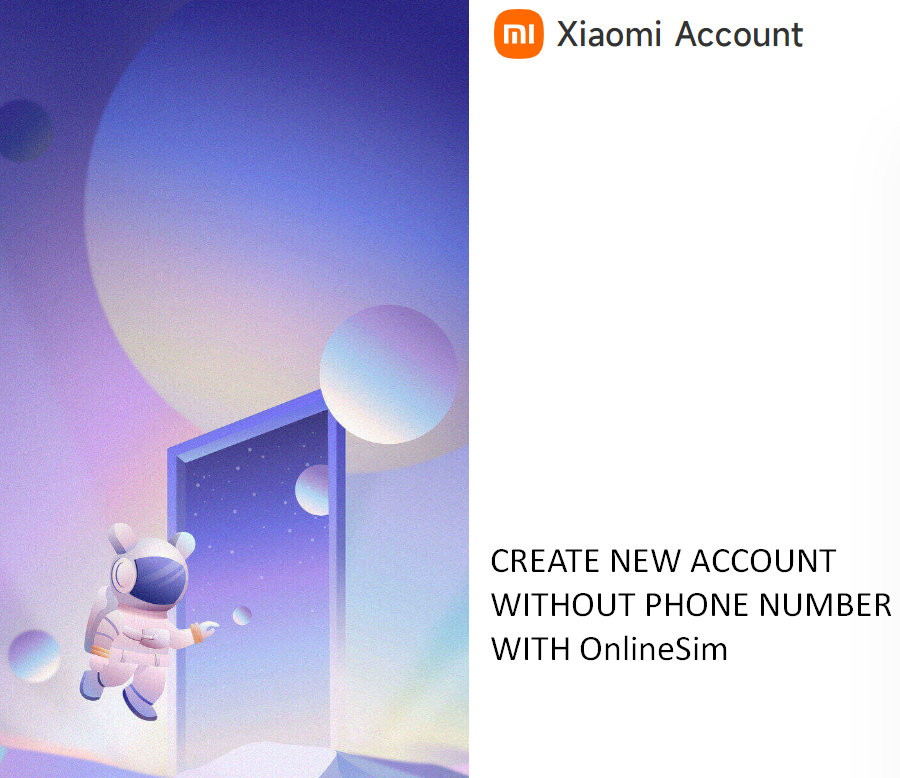 Let's look at Xiaomi benefits and why Xiaomi sign un is better through a virtual phone number for your privacy.
Main Xiaomi benefits
One of Xiaomi's key strengths is its focus on providing high-quality products at competitive prices. Xiaomi has gained a reputation for offering feature-rich smartphones with cutting-edge technology at affordable price points, making them popular among consumers in many markets around the world.
Xiaomi also places a strong emphasis on innovation, regularly introducing new technologies and features in their products. They have a dedicated research and development (R&D) team that focuses on developing advanced technologies such as artificial intelligence (AI), 5G connectivity, and Internet of Things (IoT) integration.
Here are some key features and information about Xiaomi:
Product Catalog. Xiaomi showcases its extensive product catalog, including smartphones, smart home devices, audio and video products, laptops, and other consumer electronics. Users can browse through various categories and product pages to learn more about Xiaomi's offerings, including specifications, features, and pricing.
Online Store. Xiaomi's website and app features an online store where users can purchase Xiaomi products directly. The online store offers a wide range of Xiaomi devices, and users can add products to their cart, make payments, and complete their purchases online.
Support and Services. Xiaomi's app and website provides customer support and services, including product registration, warranty information, troubleshooting guides, and software downloads. Users can also contact Xiaomi's customer support for assistance with their products.
Xiaomi Mi Account. Xiaomi offers users the ability to create a Mi Account, which allows them to track their orders, manage their purchases, and access other services offered by Xiaomi, such as Mi Cloud for storing data and Mi Community for engaging with other Xiaomi users.
News and Updates. Xiaomi's website features news and updates about their latest products, announcements, and promotions.
Localization. Xiaomi is available in multiple languages and is localized for different regions, allowing users from different countries to access Xiaomi's products and services in their local language.
Social Media Integration. Xiaomi integrates with various social media platforms, allowing users to share product information and interact with Xiaomi through social media channels.
Xiaomi sign up guide
Here's a step-by-step guide on how to sign up for a Xiaomi authentication account:
Step 1. Go to Xiaomi's official website or open the Xiaomi mobile app.
Step 2. Click on the "Sign Up" or "Register" button, usually located at the top right corner of the website or in the app's main menu.
Step 3. Choose your preferred method of registration. Xiaomi typically offers options such as using your mobile phone number (here you can use a virtual number from OnlineSim) or email address. Select the option that you prefer and click on it.
Step 4. Fill in the required information, including your mobile phone number or email address, password, and any other requested details. Make sure to provide accurate information.
Step 5. Complete any additional steps, such as Xiaomi verify your mobile phone number or email address through a verification code that will be sent to you and activate Xiaomi account.
Step 6. Once you have filled in all the required information and completed any necessary verification steps, click on the "Sign Up" or "Register" button to create your Xiaomi auth account.
Step 7. Congratulations! Make Xiaomi login or Xiaomi cloud login. You have successfully signed up for a Xiaomi account verification code. You may now be able to access Xiaomi's services, products, and features, depending on your location and account settings.
OnlineSim provider. Database of numbers and instructions for purchase
There are various companies on the market today that provide virtual directories. Some of them are free, and others are paid. The free ones are not worth your attention because they never promise you a satisfactory level of security. The hardware and software of such companies are low quality or outdated because the free companies can't afford to invest much money in their technology. This will be the reason why your Xiaomi verification code text will not be delivered.
You can register and activate Xiaomi services through a virtual number. OnlineSim has 10,000+ online SIM cards and 30+ countries. You won't have to wait forever for verification, which is the case with many providers. SMS are often not delivered, but that is not the case with OnlineSim.
Open OnlineSim and do a simple registration in the Xiaomi app;
Top up your fake account generator in OnlineSim;
Go to the main page, wherein the search engine search for "Xiaomi";
Next to one of the virtual numbers, click "Get" (your new number will appear in the cabinet);
Then enter a unique Xiaomi phone number when registering at Xiaomi. After that, you will receive an SMS verification of Xiaomi on the virtual number in your personal OnlineSim cabinet.
The placement in the virtual directory helps to go through the verification procedure without providing an actual cell phone number. The virtual SIM works like a standard SIM but over the Internet. You can choose a location and sometimes even a carrier.
Meanwhile, placement tools that you pay money for work are much better. They're perfect for account verification in various apps, including Xiaomi. All you have to do is register on the company's Web site, top up your balance, and buy a virtual SIM card or several SIM cards, depending on your needs. You can choose what country your virtual directory will be from.
As evident, the procedure is uncomplicated and doesn't require much more time than registering for a traditional phone book. Nevertheless, it provides an enhanced level of data protection. A reputable provider of premium virtual SIM cards typically extends free trial options for you to evaluate their quality without incurring any cost. A reputable company will have an ample supply of numbers and an extensive array of locations available. It will prioritize the security of your data. The trustworthy OnlineSim service offers diverse payment plans tailored to your requirements.